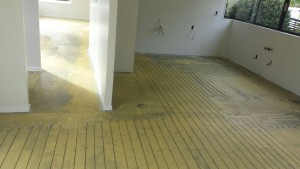 Are you looking for undertile heating or underfloor heating Auckland? Heat a Room are the home heating NZ specialists. We are the place for electric under tile heating and underfloor heating Auckland solutions. If you are building or renovating in Auckland and are interested in a cost effective home heating system for kitchens, bathrooms or entrance ways, contact Heat a Room for an installation quote.
Underfloor heating is an inexpensive means for heating a home. Heat a Room applies InsOfloor, an insulating primer, to reduce heat loss and reduce running costs by up to 20%. We are the sole importers of InsOfloor; no other New Zealand installer applies the sealant to their underfloor heating installations to provide a 20% reduction in heat loss.
---
Testimonials
"Patrick and his team are great to work with and we can always rely of having no corners cut and a high quality finish. Heat a Room are definitely our recommended underfloor heating installers and I look forward to doing many more jobs with Patrick and his team. "
Stu Macfarlane, Project Manager, 505 Construction Ltd
"As Builders we evaluate all our contractors on 3 criteria – Quality, Service, Value. When we first trialled Heat a Room our biggest concern was the quality. We were, and are, very satisfied. Service is a very important component for us because poor performance impacts many other trades. We're very happy with their performance. Value means great quality for a competitive price, and Heat a Room delivers on that promise."
Marc Dennes, Principle Homes
"Heat a Room have always proven themselves to be reliable and punctual. An important consideration with underfloor heating is the level and quality of the floor once installed. Heat a Room have always produced a sterling finish. They also have distribution rights for Insofloor, which is a fantastic product that insulates the floor and keeps the heat inside. Energy costs are cut considerably by their technology. We have been using Heat a Room for the last 7 years without a single hitch. I highly recommend them."
Matt, Pinnacle Bathrooms
"We have used Heat a Room and Heat a Room products for many years now and have had very little problems. If there has ever been a problem, support is readily available and sorted promptly. Heataroom is always accomodating with delivery or collection of product and I have no hesitation in recommending Heataroom to anyone."
Danny Francis, Director of Ararimu Electrical
7 Day Touch Screen Thermostat
Our underfloor heating system can be easily controlled by a touch-screen thermostat. Temperature levels can be altered for different times of the day to ensure your family is warm in the Winter and cool in the Summer. The thermostat can be configured to run on a seven day cycle; so you can warm the house at different times of the day to fit your family's routine.
Low Running Costs
Underfloor heating costs just a fraction of traditional heating methods. Heat a Room's underfloor heating can warm a large room for just 120 cents/day
View Running Costs »
Underfloor Heating Advantages
Underfloor heating is the perfect option for your family, if you want a warm and healthy home all year round.
View Advantages »
Our Products
We are looking for dealers for our InsOfloor sealant and underfloor heating system. Heat a Room are licensed as the sole importer of InsOfloor, a sealant that radically reduces heat loss. Find more information on the underfloor heating Dealers and Agents page, and contact Patrick.